.
.
.
December 10, 2013
I just wanted everyone to know that in Europe, Cool Ranch chips are called Cool American.

…

wtf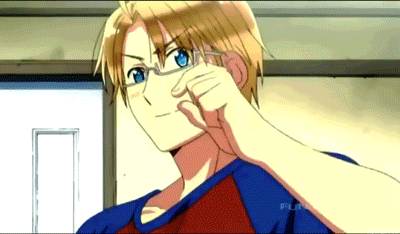 December 5, 2013
Thank you Scotland.
This looks familiar for some reason…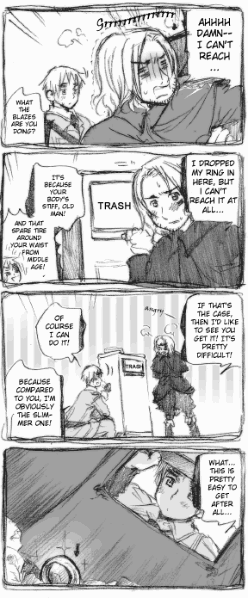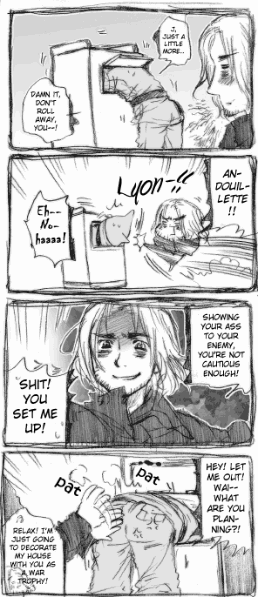 (source)
Oh, yes… Now I remember! (*´▽`*)
On November 2nd at AGF2013 there was a Hetalia panel featuring Go Inoue (Spain) and Atsushi Kousaka (Prussia, Estonia, Greece) where they screened a clip from the upcoming episode "I Was Overwhelmed by Heroines", which features Nyotalia characters. The Animate article recaping the event includes three photographs of the clip that was shown.

The complete episode will be released on DVD in Japan on February 26, 2014.
December 3, 2013
Blog update: Request 79
Their soccer uniforms have some pretty adventurous designs as well and are pretty interesting.

Translation by hikari_kaitou. Original here.
…where is France's other hand?
I am an American too!

this is probably the only sex gif i will every reblog, because for some reason i feel like it's more than just sex. i don't know if it's how they're actually looking at one another or the way they can't get close enough. he's actually looking at her like a person and not just a sex object. but then again, it could be all in my head. i mean, this is how i would want it to be. but that's just me

…the fuck

No, it says never give up.

i give you a hamburger 

This is someone dying while having an MRI scan. Before you die, your brain releases tons and tons of endorphins that make you feel a range of emotions. Tragically beautiful.

This is obviously a misinterpretation of a representation of a future androgynous society in which there are no races. There are no countries, hence why the blob (a.k.a the world) is white. It is a unified state of nationalities and people that have all come together under a skewed version of classic American capitalism. It is anti-assimilation propaganda distributed by different off-radar sects and small racial and/or religious theocratic parties. They are poking fun at what an "All American" society would look like. I mean, c'mon guys, it's not that hard to see.

No it says lettuce.
November 30, 2013
I swear, Germany looks so awkward in shorts it's ridiculous.
November 29, 2013
[DVD] Hetalia: The Beautiful World - Extra Disk

Company: Media Factory
Release Date: 26th February 2014
Retail Price: 3,150 Yen 
Season: 5
Run time: 20 minutes 
Content: An extra unaired episode (Nyotalia; 'I Was Overwhelmed by Heroines'), Non-telop theme song (creditless theme song), illustrated DVD jacket, video appearance by Atsushi Kousaka and other content to be announced 
Specifications: Another bonus unaired episode that will feature the genderbent 'Nyotalia' counterparts of the characters. This episode will be specially directed by Hiroshi Watanebe. 
Characters:

Normal Characters: Estonia

Genderbent 'Nyotalia' Characters: North Italy, Germany, Japan, USA, England, France, Russia, China, Prussia, Latvia, Canada

Not only is this extra DVD special in that it'll be the first of the Nyotalia (genderbent Hetalia characters) to be animated, but they're hoping to deliver a powered up episode with a number of notable Japanese animators working on it!

Click on the read more cut below for details

A sample image was just released!!
November 28, 2013
…something in the water
November 27, 2013
france owns a dorky paris snuggie pass it on
I always thought it was a nightgown (which is still pretty funny, mind you), but if it is a snuggie, that's even more hilarious.
For those who are not aware, J. Michael Tatum (France's dub actor) has worn a snuggie while recording France's lines. If you haven't heard that particular story, go watch this.
It kind of makes me wonder if Himaruya knows about that and drew France wearing that particular item of clothing on purpose…
November 25, 2013
Requests 69-71
The one being held is Egypt.



Kind sisters who offer offer council.

[Blog Update] [Translation by hikari_kaitou]